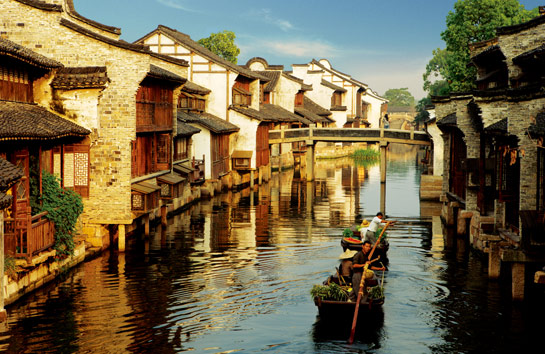 About Wuzhen
The dreamlike town of Wuzhen is one of China's most charming destinations. A 1,300-year-old water town on the lower reaches of the Yangtze River; it has been stunningly restored to its former splendor. Wuzhen is a national 5A scenic area and one of China's top ten historical & cultural towns. Located on the Hangzhou-Jiaxing-Huzhou Plain in northern of Zhejiang Province, it is at the center of the golden triangle consisting of Shanghai, Hangzhou and Suzhou. Wuzhen is easily accessed through a number of expressways and national highways.
In 2001, Wuzhen was named as a candidate for UNESCO's World Cultural Heritage List. At the end of 2006, it was included in the revised List of China's Candidates for UNESCO World Cultural Heritage. In 2009, Wuzhen was named as the first PATA eco-tourism destination in Mainland China.
The ancient Beijing-Hangzhou Grand Canal flows through the town, which is divided by waterways into four areas: Dongzha, Xizha, Nanzha, and Beizha. Since its foundation in 872 A.D., Wuzhen has never changed its name, location, waterways, or way of life. Its traditional buildings remain intact today even after hundreds of years of weathering.
http://www.wuzhen.com.cn/english/about_wuzhen.asp
With the unique combination of modern facilities and traditional culture, Wuzhen is the perfect choice of a permanent venue for the World Internet Conference (WIC). Following on the success of the 2014 Conference, the theme of the 2015 event will be "An Interconnected World Shared and Governed by All—Building a Cyberspace Community of Shared Destiny." This year's Conference will further facilitate strategic-level discussions on global Internet governance, cyber security, the Internet industry as the engine of economic growth and social development, technological innovation, and the philosophy of the Internet. It is expected that 1200 leading figures from governments, international organizations, enterprises, science & technology communities, and civil societies from around the world will participate in the Conference.
The Conference will be a platform for building a cyberspace community of shared destiny, advocating worldwide respect for diversity, focusing on mutual development, forging consensus, and confronting risks jointly. It is hoped that more countries will join us in sharing the benefits that come along with development of the Internet, and in shaping a better future for human society in the new Internet era.